The History of Tweed Shire
The Municipality of Murwillumbah was proclaimed by Government Gazette No. 346 of 25/5/1902 with alterations by proclamation in Gazette No. 3 of 6/2/1922. The minutes of the first Municipal Council meeting reveal that it took place in the School of Arts (now replaced by a Plaza) on Friday, 22nd August, 1902. The main business was the election of Mayor, with Returning Officer Mr R. C. Ewing, brother of Thomas Ewing and a Real Estate businessman. Members present were Patrick Smith (Stock and Real Estate Agent), Peter Street (Solicitor), Isaac McIlrath (Manager, Tweed Co-operative Butter Factory), John Withford (Storekeeper), Ralph Thornton (Estate Agent) and Edward Osborne.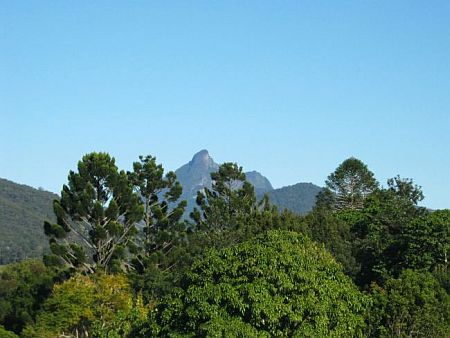 Mr Withford proposed that Mr Smith be elected Mayor. Mr Ralph Thornton proposed that Mr Street be elected Mayor. Mr Osborne proposed that the election be conducted by a show of hands, seconded by Mr Withford. Carried. The show of hands asked for three for Mr Smith and three for Mr Street. Mr Street was elected Mayor on the casting vote of the Returning Officer and held office for 1902 and 1903. The minutes were confirmed by Mr Street 28/8/1902 as Mayor.
The Shire of Tweed was proclaimed in Government Gazette No. 121 of 7th March, 1906 with the alterations proclaimed in Government Gazette No. 144 of 23/12/1908, No. 3 of 6/1/1922, No. 69 of 15/6/1923.
The foundation stone of Shire Hall in Queensland Road Murwillumbah was laid on 8 July 1915 by Shire President W. L. Brasnett, J.P. This building became the working centre of the Tweed Shire Council until amalgamation of the Shire of Tweed and the Municipality of Murwillumbah, proclaimed by Government Gazette 20/12/1946.
It was constructed in brick and for those times it was commodious with council chambers, president's room, shire clerk's office, strong room, engineer's room, inspector's room and toilet. At the rear was a large brick storeroom for tools and stables for horses. The cost was One thousand, one hundred & forty one pounds.