The History of Murwillumbah
The name Murwillumbah is of Aboriginal origin. Joshua Bray (one of the Tweed's early settlers) laid claim to the naming of the place in a paper he wrote in 1902. It is also said that the NSW Government had asked a Jonathan Harris to suggest a name for the town back in 1873 and is reportedly in family records that Jonathan had named the town.
Stand in the Tweed Valley somewhere around Murwillumbah and you will find yourself in a great amphitheatre roughly 32km across and walled by high ranges on all sides except to the east where they slope down to the sea. You are really standing in a great circular excavation of the inner parts of a dome, an area from which all the rock mass has been eroded away, leaving the encircling ranges to present their stiff-like walls towards the centre and Mt Warning.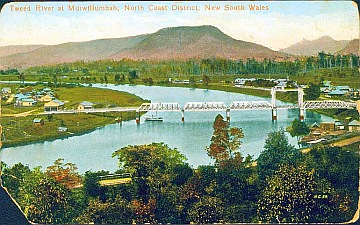 Mt Warning, known to the Bundjalung people as Wollumbin, towers skywards some 1157 metres. One is fully aware of its value from the scenic viewpoint, standing as it does like a sentinel higher than and overlooking its encircling ranges, features which serve only to emphasise it as the centre of activity. It is reported that Mt Warning is the first place in Australia the sun hits.
The town of Murwillumbah is situated approximately 30 kilometres south of the Queensland and New South Wales Border, and lies within the warmer northern region of the South Temperate Zone. It is the administration headquarters of the Tweed Shire and commercial centre serving the middle and upper Tweed Valley.
By 1875, the growing and refining of sugar had begun in the area surrounding Murwillumbah. It was not long before the development of refrigerated transport led to a rapid expansion of the dairy industry, with the building of Norco's Cheese and Butter Factory in 1911.
An important day in the history of the Tweed Valley and Murwillumbah was Christmas Eve 1894, 11:25 a.m., when the first train to bring passengers into town steamed into the Murwillumbah Station. To this day, the town remains an important residential, commercial and cultural centre for the Northern Rivers region.

Tweed Regional Museum and Murwillumbah Historical Society now have available a self-guided Town Centre Historical Walk brochure - download a free copy here or pick one up at the Tweed Regional Museum - Murwillumbah front counter. Guided tours will be conducted by the Society on the first Saturday of the month, departing from the Museum at 1pm. Bookings are not essential but are recommended to this email or by telephone to (02) 6670 2273. Cost is a gold coin donation.